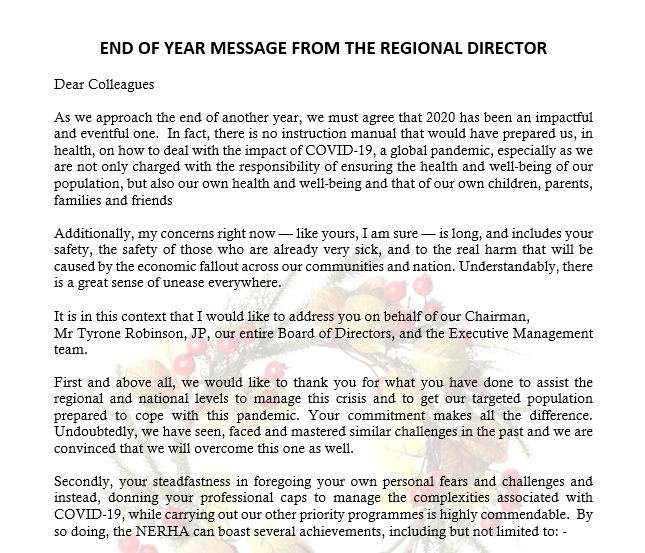 2020 End Of Year Message From The Regional Director
Dear Colleagues
As we approach the end of another year, we must agree that 2020 has been an impactful and eventful one. In fact, there is no instruction manual that would have prepared us, in health, on how to deal with the impact of COVID-19, a global pandemic, especially as we are not only charged with the responsibility of ensuring the health and well-being of our population, but also our own health and well-being and that of our own children, parents, families and friends.
Additionally, my concerns right now - like yours, I am sure - is long, and includes your safety, the safety of those who are already very sick, and to the real harm that will be caused by the economic fallout across our communities and nation. Understandably, there is a great sense of unease everywhere.
It is in this context that I would like to address you on behalf of our Chairman,
Mr Tyrone Robinson, JP, our entire Board of Directors, and the Executive Management team.
First and above all, we would like to thank you for what you have done to assist the regional and national levels to manage this crisis and to get our targeted population prepared to cope with this pandemic. Your commitment makes all the difference. Undoubtedly, we have seen, faced and mastered similar challenges in the past and we are convinced that we will overcome this one as well.
Secondly, your steadfastness in foregoing your own personal fears and challenges and instead, donning your professional caps to manage the complexities associated with COVID-19, while carrying out our other priority programmes is highly commendable. By so doing, the NERHA can boast several achievements, including but not limited to: -
1. Launching 5 major Capital Projects across the three parishes
- Construction of the Buff Bay District Health Centre, Portland
- Construction of Laboratory, Blood Bank, Physiotherapy Department, Conference Building at the Annotto Bay Hospital, St Mary
- Procurement & Installation of a Standby Generator at the Port Maria Hospital, St Mary
- Upgrading of the Sewage Plant at the St Ann's Bay Regional Hospital
- Construction of the Regional Facilities Management Unit on the grounds of the St. Ann's Bay Regional Hospital
2. Maintaining critical targets in our Expanded Programme on Immunization
3. Maintaining focus on the Dengue Mitigating Programme
4. Full implementation of the Performance Management & Appraisal System (PMAS) across all facilities within the RHA
5. Fleet In-Service target of 95%
6. Successful implementation of the Regional COVID-19 Welfare Programme
7. Continued improvement of our Management Information System
8. Digitizing of our Radiography Services
9. Improvements to the Central Sterile Supply Departments (CSSD) at the Port Antonio and Annotto Bay Hospitals with the procurement of new Sterilizers.
10. Implementation of the PAHO funded Smart Health Facilities initiative at the Port Antonio and St Ann's Bay Health Centres, which will retrofit these facilities to strengthen their resilience against natural disasters and improve the use of non-renewable efficiencies
Finally, the safety of all of us is paramount. We can only make positive contributions and live our purpose and values if we stay healthy and avoid spreading the virus despite the risks associated with our need to be in close proximity and contact with the wider population. Our reality remains that much of the essential work we do cannot be done from home. Accordingly, we have implemented a series of preventative health measures for employees and visitors across all our health facilities and increased the frequency and intensity of cleaning schedules and Infection, Prevention and Control (IPC) measures to safeguard everyone was well as facilitating the recommended social distancing guidelines, all in an effort to safeguard you, our most critical resource. We continue to explore, identify and implement additional strategies to improve on these measures.
Despite everything, I am convinced that we will get through this if we do not lose focus, our self-confidence and our energy. It is in this regard that we offer each and every employee, a Special Thank You Package, to express our sincere appreciation for all that you do. Included in your NERHA branded Back Pack are the following memorabilia items: -
1 – Face Mask
1 – Water Bottle
1 – Lapel Pin
1 – Note Pad
1 – Lunch Box
1 – Key Ring
On behalf of the leadership team, I wish you a very happy holiday season, full of joy and celebration. Your hard work is greatly appreciated. May this Holiday Season bring an abundance of happiness, peace and joy to you and your loved ones.
Yours sincerely
Fabia M. Lamm, JP
REGIONAL DIRECTOR