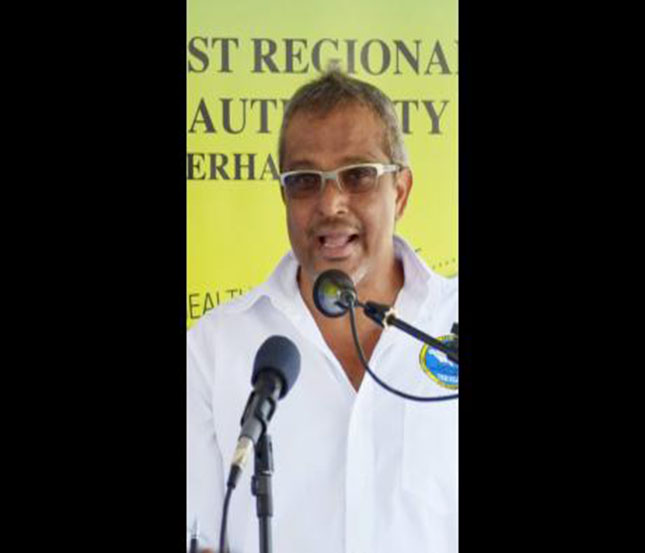 NERHA Chairman Dies Of COVID-19 In Florida
The death of North East Regional Health Authority (NERHA) Chairman Tyrone Robinson from COVID-19 in Florida in the United States has sent shock waves throughout the local health sector.
The 58-year-old Robinson had been a respected and beloved personality within the business sector in St Ann, and within the regional health circle since he became NERHA chairman in 2016.
It is understood that Robinson had visited his mother for Thanksgiving in November last year. A guest who had turned up for dinner was later diagnosed with COVID-19 and when Robinson started to develop symptoms some time later, he was tested and received a positive result.
He was later admitted to a health facility, where he died last Friday. No other family member has tested positive for the disease.
A pilot, businessman and farmer, Robinson was also a political activist for the Jamaica Labour Party, for which he helped to organise activities in St Ann North Eastern for several years.
Health and Wellness Minister Dr. Christopher Tufton expressed sorrow at Robinson's passing.
"Mr. Robinson was a visionary leader who brought his expertise to public health, especially to the northeastern side of the island. We have benefited tremendously from his leadership and his passion for service," he said in a release from NERHA.
The minister said Robinson was steadfast about improving the infrastructure and aesthetics of health facilities, drawing on the support of private- and public-sector organisations to do so.
NERHA Regional Director Fabia Lamm said that the organisation was shocked at the death of the chairman.
"He was a board chairman extraordinaire. He didn't just talk the talk, he walked the walk. He had a passion for the health sector, especially the facilities in NERHA, more so St Ann's Bay Regional Hospital," Lamm said.
As chairman, Robinson was in charge of a region that comprise St Ann, St Mary and Portland. The area has four general hospitals, two community hospitals and 70 health centres, with a staff complement of approximately 3,000.
MANY ACHIEVEMENTS

Robinson has been lauded by NERHA for many achievements, including the expansion of the operating theatres at St Ann's Bay Regional Hospital; improvement and expansion of the fleet of vehicles across the region; the digitisation of the radiography services at the St Ann's Bay, Port Antonio, and Annotto Bay hospitals; and the implementation of customer service departments at all hospitals in the region.
"We're just stunned, and we're still trying to come to grips with the reality of what has happened," Lamm said.
"His loss will leave a huge hole in our hearts, and so he will be greatly missed," CEO of the St Ann's Bay Regional Hospital, Delroy Morgan, told The Gleaner.
He described Robinson as a professional who was compassionate and a people person in everything that he did.
"And a lot of persons, I am sure, will give him credit for the advancement of their own personal and professional lives," Morgan pointed out.
Ocho Rios businessman Sanju Chatani said that he has been devastated by the news of his friend's passing.
"I'm still in shock. I'm very saddened by the news," Chatani said. "It's just very, very sad. It's really unfortunate. He's gone too soon; a kind and good soul."
Source: http://jamaica-gleaner.com/article/lead-stories/20210104/colleagues-robinson-had-passion-health-sector-nerha-chairman-dies